Sample floor plans – you've just got to see for yourself.
To get a first-hand look at even more of our floor plans, schedule a tour with us today!
Call us today at (630) 590-9818.
Beginning with this handful of online samples, we offer a total of 28 apartment home floor plans. To visit model apartments and browse the Design Center, schedule a personal visit.
Design your new home with our interactive floor planner. Choose from a sample of our apartments and add
furniture pieces to create the residence that's just right for you.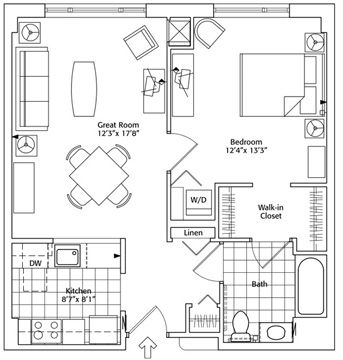 The Brighton
Sunny and warm with a great room for entertaining
Bedroom features a spacious walk-in closet and separate linen storage
Expansive living area ideal for hosting dinner parties and family gatherings
Ultra modern kitchen makes food preparation a pleasure
Oversized picture windows bathes living area and bedroom in natural light
The Jackson
Room for everything you do
Master suite includes deluxe walk-in closets and full master bath
More-than-ample living area with plenty of space for living room and dining room
sets
Large kitchen features wraparound countertops and storage below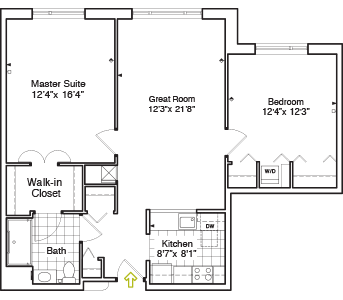 The Franklin
Room for two and a spare room, too
Large master bedroom opens to a wide walk-in closet and a full bath beyond
Large living room/dining room area made larger by access to a private patio
Spacious kitchen features up-to-date appliances and counters
Flexible second bedroom does double duty as sleepover space and/or den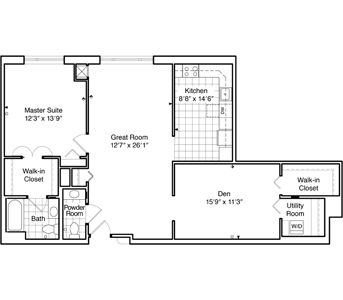 The Georgian
Our extra-large apartment
Master suite includes a double walk-in closet and full bath beyond
The spacious great room easily accommodates full living room and dining room sets
Flexible den offers space for an entertainment center, a study or extra storage
More-than-ample kitchen area featuring wraparound countertops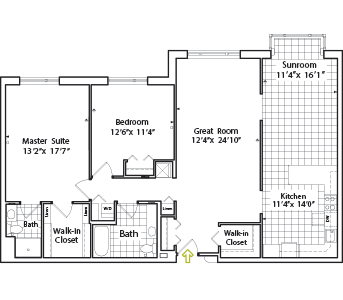 The Patterson
Sunny and bright with room for all you do
Expansive master bedroom with a large walk-in closet and master bath
Flexible second bedroom perfect for guests or as a den
Large windows and a sunroom fill the living area with natural light
Extra-generous closet space and storage throughout